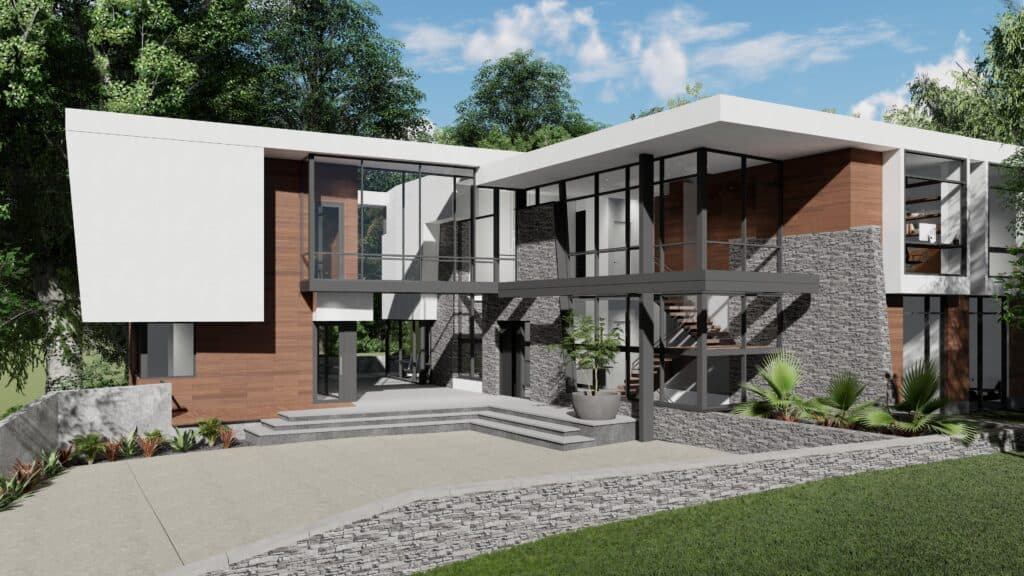 ATlanta, georgia
Completed 2023
9,500 sf | 3-stories
The East Andrews Residence is a three-level custom single-family dwelling comprised of 9,500 square feet of conditioned space, located in Buckhead, Atlanta. The program includes two zones of living spaces, of which one is primarily used by the immediate family while the other is intended for entertaining guests. Both zones of living space open onto a large outdoor patio with a pool, outdoor kitchen and extensive landscape space. The program also includes seven bedrooms, two offices, a home theatre and fitness room.
The site is nestled into a steeply sloped and heavily wooded hillside. In order to mitigate the slope of the driveway, the garage is embedded with the earth and connects to a lower floor of a dramatic three level foyer and circulation space which includes a cantilevered open riser stair. The basement level also contains a home theatre and wine bar. The main level is organized into two zones for living and entertaining with large multi-slide doors that allow the interior spaces to connect directly to the patio and pool. The main level also includes two guest bedroom suites. The upper level of the home is reserved for the family and includes offices for the owners and kids as well as a in-law suite.
In order to establish a sense of privacy from the street, the main house is situated behind a pavilion that contains housekeeper quarters and is spatially discreet on the main level. The upper level contains the in-law suite and is connected by a fully glazed bridge.