Chattahoochee Residence 2.
ATlanta, georgia
completed 2021
5,500 sf | 3-stories
Chattahoochee Residence 2.
In order to establish a sense of privacy from the street, the main house is situated behind a pavilion that contains housekeeper quarters and is spatially discreet on the main level.  The upper level contains the in-law suite and is connected by a fully glazed bridge. The property is located within a significant floodplain, subjecting the design to extensive local and federal code restrictions intended to mitigate risk from flooding. The requirement to locate primary living spaces above a critical flood elevation became a primary design consideration that engendered a strategy of articulating a complex series of formal and spatial relationships between the site and structure. The interior spaces take advantage of dramatic views of the Chattahoochee River and are bathed extensively with natural light. Building materials defining the exterior surfaces of the house extend inside further accentuating the intertwined relationship between the interior and exterior environments.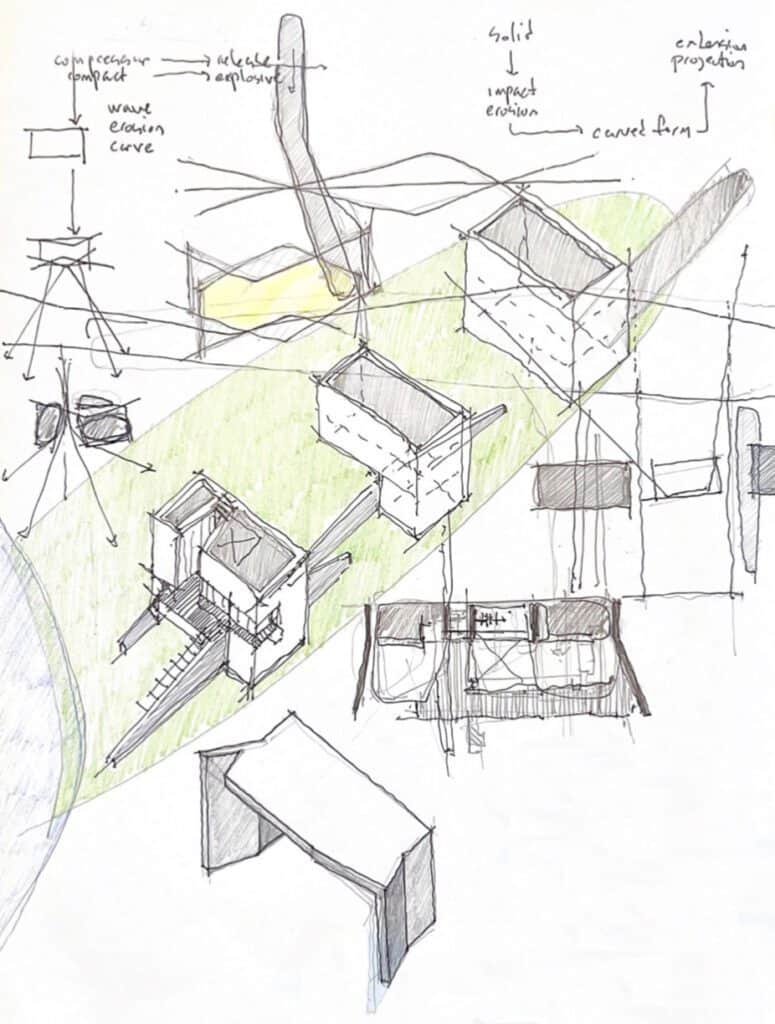 The house initially presents itself as a monolithic volume that sits parallel with the river in order to maximize exposure. The primary massing of the house is eroded across the ground plane to create covered exterior spaces and vertically to divide the structure into two volumes of space which are connected by a fully glazed bridge.  The owner's suite, guest bedroom and home theatre occupy the smaller volume while the living spaces and children's bedrooms occupy the larger.  The act of crossing the bridge and viewing the river intentionally marks the beginning and end of the day for the owners. The front door is also accessed by crossing a glass bridge that spans a water feature.