ATlanta, georgia
in-design
12,500 sf | 3-stories
The Broadland Residence is a three-level single-family residence comprised of 9,000 square feet of conditioned space, located in suburban Atlanta.  The program includes extensive living and entertainment spaces, five bedrooms, a pool house, fitness center as well as a series of exterior terraces and pool.
The site is dominated by a steeply sloped and heavily wooded perimeter that wraps a relatively level plateau, which was the location of an existing house, patio and pool.  Given a desire to preserve the trees and natural character of the property, the new home has been situated on the previously developed areas of the site and maintains portions of the existing patio, pool and pool house.  The existing patio is expanded to become a series of terraced outdoor spaces that pass through the entertainment and living zone within the house and culminate in a garden that establishes a connection to an existing tennis court.  The living spaces have soaring ceilings to articulate their connection to the exterior environment. This movement through the site is a critical organizational feature and reinforces the powerful relationship between interior and exterior spaces.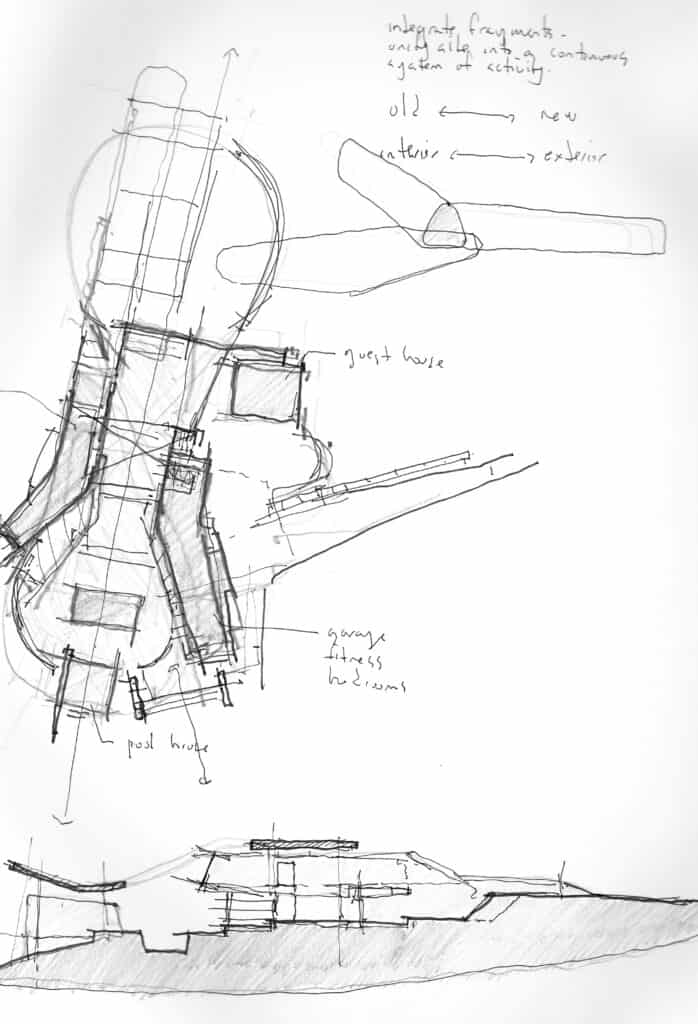 The house is divided into two volumes that flank the entertainment and living area, with a catwalk that connects them.  The owner's suite, guest bedroom and kitchen occupy the smaller volume, with the remainder of the bedrooms, library and fitness room comprising the larger volume.  All of these interior spaces have extensive glazing that provides visual and spatial connections to the exterior living areas.